WHAT YOU NEED TO KNOW TO BECOME A CHEAT RIVER GUIDE
Due to unexpectedly cold temps this weekend, we are pushing training back one week.  See you on the 19th.
IT'S OFFICIAL!  RIVER TRAINING BEGINS ON MARCH 19, 2022! 
Here is where you can find the info you need to become a member of the Cheat River Outfitters staff.  We have been in business for over 40 years, showing off the Cheat River of northern West Virginia.  We take pride in our guidestaff and if you are interested in training to work the Cheat River, we want to hear from you.  Below are some documents that you can read or print that will give you some specifics of our training.  If you want to join our staff training, you can contact us with questions using the form at the bottom of this page.  If you are ready to sign up, click the red bar above to get signed up.
A few of the basics…
No experience is necessary.  However, you need to be an adventurous sort who likes water.
A positive attitude and good people skills are requirements of the job.  We can teach you whitewater skills, but you need to bring the personality!
This is a physical job that requires you to be decent physical condition.  You need to be able to lift rafts.
Training program requires a fully refundable training deposit.  Finish, work, and you will get your deposit back.  Click red Sign-Up bar for more info.
GUIDE TRAINING BEGINS MARCH 12, 2022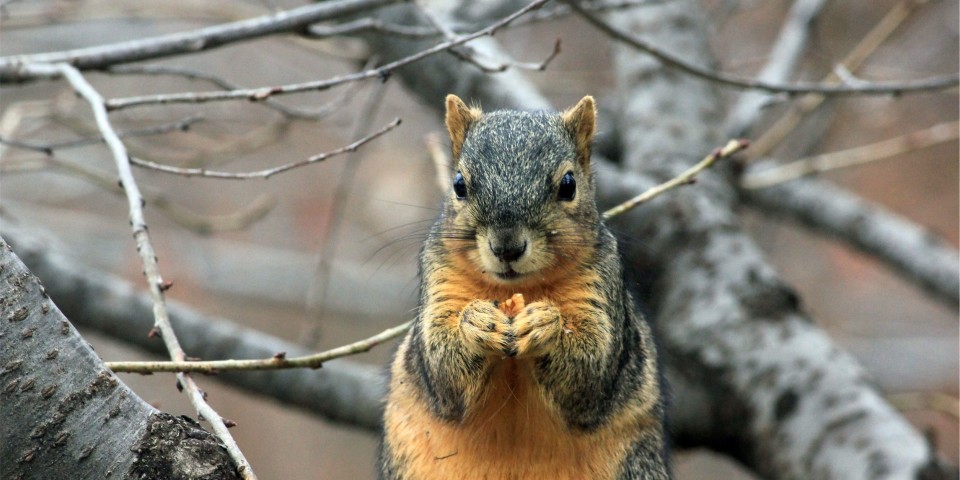 Who doesn't like squirrels?
 USEFUL DOCUMENTS IF YOU WANT TO LEARN MORE
The whitewater industry in West Virginia is overseen by the WV Department of Natural Resources (DNR). Here you can read the DNR regulations as they pertain to becoming certified as a whitewater guide in the state of WV. WV DNR Regulations (after you click, scroll down to the Trip Guide requirements)
​
Here is how it works… If you have never worked as a whitewater guide, or if you have worked on a river that does not require a guide in every boat, then you need to complete a minimum of 17 training trips on the Cheat River.  Some are ready to be certified after the minimum runs while others will need some extra runs to check out.  A trip guide needs to be able to handle a raft full of guests as well as being able to give safety briefings and knowing safety and company protocols.   In order to be certified, you also have to have current First Aid and CPR certifications.
If you have worked as a whitewater guide on another river that requires a guide in every raft, then you will have to do significantly less training runs to be certified on the Cheat River.
As a general rule, you will spend the spring training and be ready to start working the river in the summer.  We pay per trip.  Summertime trips are mostly on the Narrows and we have the possibility of 2 trips per day.  You only have to be certified once, not every year.  You just have to do occasional refresher runs and keep your medical certifications current.
This is a fun and flexible job.  You can work a little or a lot once you get certified. You get to work in the great outdoors.  You get to work with all sorts of people, many of whom are on vacation.
LIKE PAINTBALL?
We have a paintball field and we are always on the lookout for Paintball Referees. If you are interested in that position, please complete the form and put in the comments that you would like to ref for us.
NEED AN INTERSHIP?
We are happy to work with you and your internship requirements. We are believers in experiential learning and think the best way to learn something is to try it out. We love to get fresh perspective on marketing and technology. We would especially love intern help with social media and youtube. Let us know if you are interested.
I am interested in training with CRO: