Cheat Canyon

Cheat Canyon


on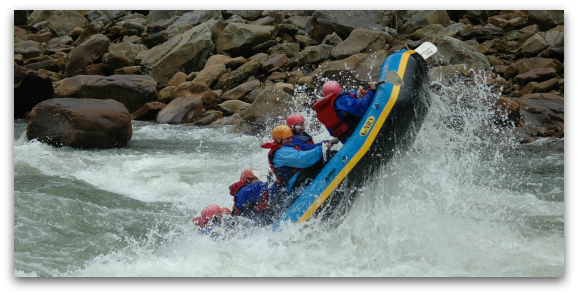 There are no roads, skyscrapers or condos – just some of the best and wildest whitewater in the East. The Cheat Canyon stretches 13 miles from Albright, WV to Jenkinsburg Bridge.  This 13 mile section of river contains rapids rated Class III to Class V surrounded by the beauty of a spectacular wilderness canyon. The Cheat Canyon trip departs directly from our Visitor Center in Albright and quickly enters a remote, steep walled canyon. While taking a break from the intense whitewater action you will see waterfalls coming into the canyon and unique rock formations. But don't let the beauty of the Cheat Canyon fool you, she can dish out some pretty serious rafting. You will encounter such rapids as Decision (where you decide once and for all whether to continue your trek into the canyon), Big Nasty, Tear Drop, Coliseum, Fossil Falls, and of course a Swimmers Rapid at the end of the trip.
The season for running the Canyon is Spring. As a undamed river, the Canyon shows her stuff when heavy rains and snowmelt equal higher water levels. The Cheat Canyon runs primarily from March through June, but we will run anytime we are experiencing good rainfall amounts (especially big summer storms and fall hurricane season).
Because the Cheat is an undammed river our conditions will change from day to day.  The river is always rising or falling.  That is the nature of rivers.  We will match the boat size to the water level and your group to give you the best ride for the river level on the day of your trip.  We do reserve the right change sections of river and size of boats if river levels are above or below our cutoffs.
CHEAT CANYON AT A GLANCE
SEASON: Spring (March through mid-June) and anytime we are experiencing plenty of rain.
WHITEWATER CLASSIFICATION: Class III-V
TRIP LENGTH: 13 miles, 6-7 hours; but times can vary with water level, Trips depart at 9am or 10am
TRIP REQUIREMENTS: 14 years old and up. Physically fit with no major health concerns.
All Canyon trips are fully guided with the guide in the raft with you.  Canyon trips include all necessary equipment and a riverside lunch.  Wetsuits are available to rent for cool early spring trips.
CHEAT CANYON PRICING
Saturday: $125 per person
Sunday-Friday: $110 per person
Prices do not include taxes or $0.35  per head DNR fee.
Information
Phone :
304-329-2024
Address :
2764 N Preston Hwy, Albright, WV 26519
Hours
Monday :        8am-5pm
Tuesday :        8am-5pm
Wednesday : 8am-5pm
Thursday :     8am-5pm
Friday :           8am-5pm
Saturday :      8am-5pm
Sunday :         8am-5pm