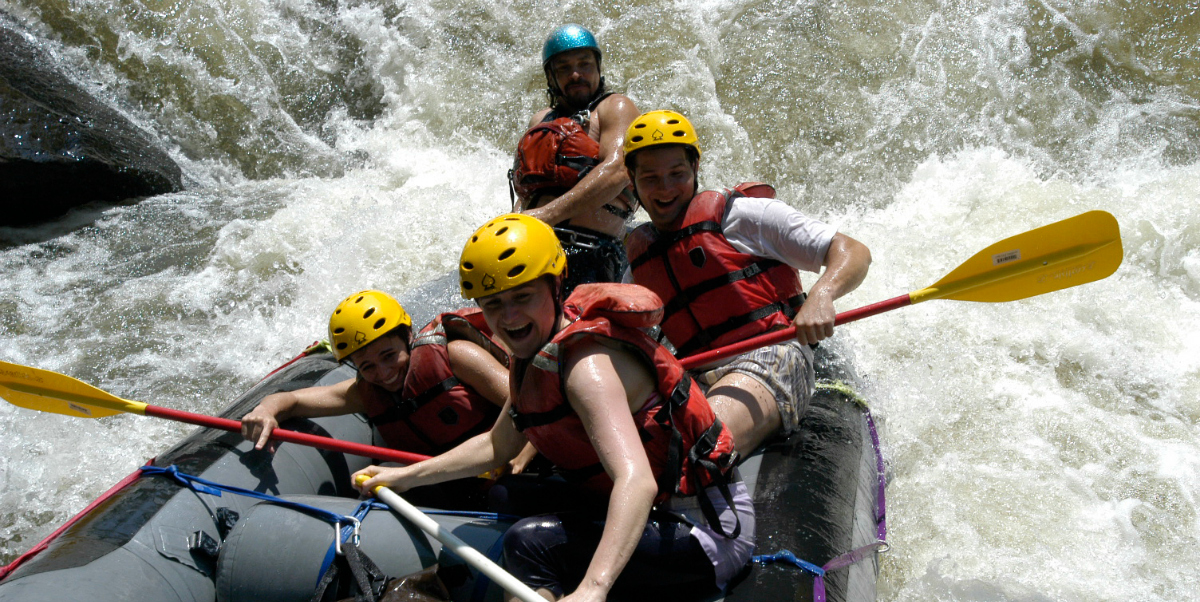 The Youghiogheny River springs from the 3000 foot ridges of the Allegheny Plateau in Western Maryland. For 11 miles, the upper section of this pristine river offers a true wilderness experience as it cascades through a lush hemlock forest teeming with wildflowers and wildlife. This is the legendary Upper Yough (pronounced "Yock"), an energizing paddling experience guaranteed to please the most avid whitewater enthusiast.
After you enjoy the scenery in the deceptively calm entrance pool, you will soon find the river's main attraction – whitewater, and plenty of it! Even the Class III rapids we warm up on will get your attention. Soon, you are careening through the tightest of slots in boulder-piles like Split Decision and the Fat Man's Squeeze. For 7 miles, the river is virtually one rapid! The Upper Yough drops an average of 116 feet per mile, creating the most continuous stretch of technical Class V whitewater in the East.
In the majestic Upper Yough Gorge, the river will command your full attention. Precise cooperation is needed to skillful navigate the many blind chutes and ledge drops. The Upper Yough is for those ages 16 and up and previous whitewater experience is required. For whitewater enthusiasts the Upper Yough is the top of the ladder and the thrill of a lifetime.
UPPER YOUGH TRIPS MEET IN FRIENDSVILLE, MARYLAND
2022 RELEASE DATES
The Upper Yough is run in accordance with scheduled releases from the dam at Deep Creek Lake in Garrett County, Maryland. Below are all of the scheduled releases for the 2020 season. In short, we will run select Fridays, Saturdays, and Mondays in the Spring and Fall and EVERY Friday, Saturday, and Monday from mid-June through August.
April 16, 23,30 (Saturdays); May 2,9 (Mondays); 6,13,20,27 (Fridays); 7,28 (Saturdays)
June 6,13,20,27 (Mondays); 3,10,17,24 (Fridays); 18,25 (Saturdays)
July – Every Friday, Saturday, and Monday
August – Every Friday, Saturday, and Monday
September 5,12,19,26 (Mondays); 2,9,16,23,30 (Fridays); 3,10 (Saturdays)
October 3,10 (Mondays); 7,14 (Fridays); 1 (Saturday) 
Upper Yough at a Glance
SEASON: Spring through Fall on a dam release schedule.  
LOCATION: Friendsville, Maryland
WHITEWATER CLASSIFICATION: Class IV-V
RAFT SIZE: 4 Man raft with a maximum of 3 guests per raft plus guide
TRIP LENGTH: 11 Miles, 4-5 Hours
TRIP REQUIREMENTS: 16 years old and up. Physically fit with no major health concerns. Previous rafting experience is required.
All Upper Yough trips are fully guided with a guide in the raft with you and includes all necessary equipment. 
UPPER TRIPS ARE RUN BY UPPER YOUGH EXPEDITIONS, INC.
Upper Yough Pricing
Saturday: $150 per person
Friday: $130 per person
Monday: $120 per person
Prices do not include taxes.
Click here for Upper trip reservations
You will be directed to the booking page for our sister company,
Upper Yough Expeditions.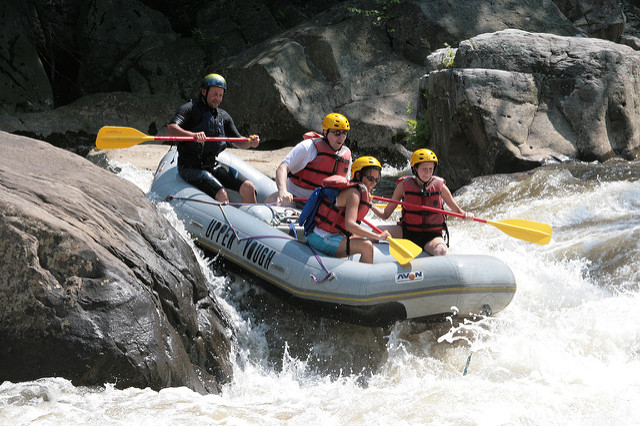 Upper Yough trips meet at the Friendsville Community Park in Friendsville, Maryland.
The park is located on Old River Rd.